Professional Peripheral Biofeedback BCIA Program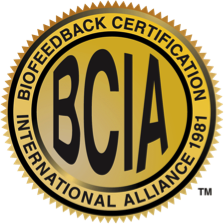 Training Dates and Locations
Continuing Education Credit Available
Health Training Seminars, a division of Biofeedback Resources International is approved by the American Psychological Association to sponsor continuing education for psychologists. Health Training Seminars maintains responsibility for this program and its content.
BCIA Certification Requirements
A good link for Travel Arrangements
Professional Peripheral Biofeedback BCIA Program
JAN 19-21, 2018 – Miami, FL
APR 27-29, 2018 – Hawthorne, NY
JUL 27-29, 2018 – Hawthorne, NY
Price: $1195
Our new style of seminar is designed to teach clinicians biofeedback fundamentals and cutting-edge applications. For better use of your time, the seminar will be a combination of 3-day classroom, home study and web-based training.
BRI Seminars Registration Form
Send payments to:
Biofeedback Resources International
109 Croton Ave, 2nd Fl, #5
Ossining, NY 10562-5102
FAX: 914-762-2281
Please fill out the following and return. Print all information
Name as you would like it for the certification with any initials or credentials
Registration Form Click Here
Professional Peripheral Biofeedback BCIA Program
This innovative seminar is designed to teach clinicians biofeedback fundamentals and cutting-edge applications. This program covers all 48 hours of the BCIA Didactic Biofeedback Education requirement through powerful demonstrations of biofeedback and adjunctive procedures, imaginative hands-on lab exercises with multi-channel computerized equipment, professional multimedia presentations and comprehensive review materials. This program integrates personal hands-on training with equipment with didactic presentation.
Participants will learn:
The foundations of biofeedback
Physiological basis and recording of surface electromyography (sEMG), temperature, electrodermal activity (EDA), respiration patterns (strain gauges and pCO2), electroencephalography (EEG), peripheral blood flow (BVP), heart rate and respiratory sinus arrhythmia (RSA) and economic biofeedback approaches (including incentive inspirometers and scales)
How to identifying artifacts and determining appropriate recording
How to record and interpret data
How to perform a psychophysiological profile and pre and post data comparison
The use of adjunctive techniques such as progressive relaxation t raining, autogenic training, imagery, guided breathing, desensitization, mindfulness training, quieting reflex.
The role of home biofeedback devices such as Freeze framer, Wild Divine and GSR2
Overview of clinical and educational applications

Our Faculty

Faculty for specific dates may vary. Please call to confirm faculty for specific dates.

Susan E. Antelis, MPS, BCIA-C Sr. Fellow, EEG-C, LMHC, President of Network Biofeedback Services, Inc, Past President and current Executive Director of the Northeast Regional Biofeedback Society, Chairperson of the Council of State Chapters & Membership Chair for the Association of Applied Psychophysiology and Biofeedback (AAPB) and past AAPB Board member.

Harry L. Campbell, BPS, BCIA-C, President of Biofeedback Resources International Corporation, Past President of North East Regional Biofeedback Society (2 years). A member of the Biofeedback Resources International team for over 23 years, he has extensive experience in delivering biofeedback services for pain management and has consulted and trained for numerous BRI clients including, universities, hospitals, military organizations, clinics and individual practitioners.

Paul J. Gunser, Psy.D, BCIA EEG Fellow, Co-Director of Health Training Seminars, Director of Psychological Consultation and Therapy Services, PLLC, American Board of Medical Psychotherapists and Psychodiagnosticians, Fellow – Diplomate, American College of Forensic Examiners, Fellow, American Academy of Pain Management, Diplomate, Adjunct Professor, Long Island University, CW Post Graduate School and Iona College. Consulting psychologist, St. John's Riverside Hospital, Community Hospital at Dobb's Ferry, Yonkers Police Department.

Erik Peper, Ph.D is an international authority on biofeedback and self- regulation. He is Professor and Co-Director of the Institute for Holistic Healing Studies / Department of Health Education at San Francisco State University. He has developed and teaches the class HH430: Biofeedback and Self-regulation. He is President of the Biofeedback Foundation of Europe and past President of the Association for Applied Psychophysiology and Biofeedback. He holds Senior Fellow (Biofeedback) certification from the Biofeedback Certification Institute of America. He received the 2004 California Governor's Safety Award for his work on Healthy Computing and the 1988 Certificate of Honor Award from the Biofeedback Society of California. He was a 2005 recipient of the AAPB Sheila Adler Distinguished Service Award. He was the behavioral scientist (sport psychologist) for the United States Rhythmic Gymnastic team. He is an author of numerous scientific articles and books. He edited and wrote the initial seminal texts on biofeedback, Mind/Body Integration: Essential Readings in Biofeedback and From the Inside Out: A Self-Teaching and Laboratory Manual for Biofeedback. His most recent co-authored books are Healthy Computing with Muscle Biofeedback, Make Health Happen Training: Yourself to Create Wellness and De Computermens. He is also the co-producer of weekly Healthy Computing Email Tips. His research interests focus on psychophysiology of healing, voluntary self-regulation, holistic health, healthy computing, respiratory psychophysiology and optimizing health with biofeedback.

Robert H. Reiner, Ph.D, BCN, BCB, Executive Director and founder of Behavioral Associates (BA), has been practicing psychology since 1981. After receiving his undergraduate degree at the University of Pennsylvania, he went on to get his Ph. D in clinical psychology at the University of Alabama and serve his clinical internship at Bellevue Hospital. He currently serves on the faculty for the Department of Psychiatry at New York University Medical Center and is a guest lecturer at the University of Pennsylvania psychology department.

Dr. Reiner can frequently be seen and quoted in the news and media and is often called upon to make appearances on major news networks for his expert opinion. Throughout his career he has served as psychological consultant for several corporations as well as an expert witness for a number of criminal trials.

He is well known for his work in treating anxiety and phobias through biofeedback and virtual reality therapy. He has been credited for this work in articles in the Wall Street Journal, New York Times, New York Daily News, USA Today, Newsweek and Time Out magazine. He has specifically had great success in treating patients for fear of flying which was documented on an episode of The National Geographic Show featuring Dr. Reiner's work with a phobic patient.

Mary Jo Sabo, Ph.D, President of Biofeedback Consultants Inc., Organizer and administrator of Biofeedback/Neurofeedback programs at Yonkers Public Schools, Administrator of American Institute of Biofeedback Technologies.

Angelika Sadar, Ph.D, B.A in Psychology, B.A in Sociology – Binghamton University, NY, M.A Clinical Psychology – University of Dayton, OH, Specialization in Gerontology – University of Nebraska, Lincoln.

Licensed psychologist, Executive Director of Northeast Regional Biofeedback Society. Member of Pennsylvania Psychological Association, American Society of Clinical Hypnosis, Greater Philadelphia Society of Clinical Hypnosis, Philadelphia Pain Society, Professional Tennis Registry. Practicing EEG Biofeedback/Neurofeedback since 2000, USTA Sports Psychology Certification, member of United States Tennis Association Speakers Bureau. Official sports psychologist for the Philadelphia Freedoms, Professional Tennis Team 2001-2010.

Mitchell Sadar, Ph.D, B.A with Honors in Psychology – Dartmouth College, M.A in Clinical Psychology – University of Dayton, Ph.D in Clinical Psychology – University of Nebraska, Lincoln

Licensed psychologist, President of Northeast Regional Biofeedback Society, Member of American Psychological Association, Pennsylvania Psychological Association, International Society for Neurofeedback and Research, Association for Applied Psychophysiology and Biofeedback, Greater Philadelphia Pain Society. Affiliate Member of EEG Info, Brainmaster Technologies and EEG Education and Research. Practicing EEG Biofeedback/Neurofeedback since 1999 and former director of maximum security inpatient units for Southeast Pennsylvania. APA Specialization in Addictions.

Fred Shaffer, Ph.D, is Professor of Psychology at Truman State University and founded an innovative biofeedback and applied psychophysiology program in 1977. He has served as the President of the Missouri Biofeedback Society (1981-1983), AAPB Education Chair (2001-2003) and on the AAPB (2002-2005) and BCIA Boards (2005).

Jorge Palacios Venegas,PhD., recognized clinician, neuroscientist and university professor with more than 30 years of experience in the basic and applied Neurosciences field. He is one of the most important neuroscientists in Latin America. Founder and CEO of Neurofeedback Clinic, S. A. de C. V. enterprise specializing in Applied Psychophysiology and Applied Neurophysiology (Biofeedback & Neurofeedback), since 1993.

Former consultant at the University of California at Davis, constitutionalist member of the Mexican Academy of Biofeedback. Former president, for two different periods, of the Mexican Academy of Biofeedback. Constitutionalist and founder member of the National College of Psychologists in Mexico, he belongs to 5 different scientific associations.

He is founder and CEO at Biofeedback Center mr where he also develops his professional practice as a clinician in Applied Neuro and Psychophysiology.

Former assessor in BrainScan and keynote speaker in the Neuromarketing 2011 Seminar. He has been speaker in more than 200 conferences, national and international congresses, special keynote speaker and has dictated lectures about Applied Neurosciences and Biofeedback. Speaker at the 20th ISNR Annual Conference in Orlando Fl, in September 2012.