Thought Technology

BioGraph Infiniti version 6.0 is designed to provide full compatibility with the most versatile systems. Operating systems support include: Windows® 8, Windows® 7, Windows® Vista®, and Windows® XP.
BioGraph Infiniti Software is the core of all current and future Thought Technology Biofeedback and Psychophysiology products. It provides a multimedia rich graphical experience, while capturing and analyzing raw data. It includes all the features and functions required to run our specialized application Suites and offers the ability to customize your own screens and suites using the Developer Tools.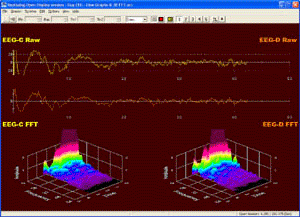 New Look & Feel
Version 6.0 and its many enhancements will please many current and new users. BioGraph's menus were reorganized to group functionality in logical sets. Many dialog boxes were simplified and the flow of a number of functional sequences (start session, review sessions, export data, etc) were streamlined to minimize mouse clicks and facilitate user decisions. A number of automatic default settings were implemented such as: Notch filter frequency, default temperature units, force units and page size format based on user preferences in Word. New easy screen resize function fits all monitors and is saved for the next session.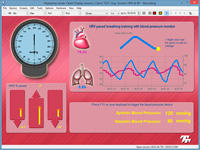 BioGraph can now monitor your client's Blood Pressure before, during and after training by communicating with the AND PC Blood Pressure monitoring unit (model UA767PC). Blood pressure readings can be triggered manually, by pressing a key on the keyboard or automatically when recording a script session. For each reading, BioGraph stores the systolic and diastolic measures, as well as the time of the measure and the heart rate as calculated by the device.
The new Binaural Beat Pacer Instrument allows you to program audio entrainment sessions which are responsive to your client's ability to learn.
The pacer's adaptive functionality monitors your client's dominant EEG frequency while gently leading him towards the target frequency but adjusts its pacing rate according to your client's response.
neet
For users of BioGraph Infiniti 4.0, a free upgrade to version 5.1.4 is available here.
For users of BioGraph Infiniti below vs 4.0, the price below applies:
Software: BIOGRAPH INFINITI 6.1(windows 10 compatible) $300