IBS CT-1600 Pulse Rate Monitor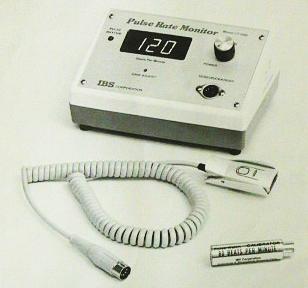 The model CT-1600 utilizes an optical sensor to detect finger pulses and converts this measurement into direct reading digital pulse rate in beats per minute. The use of a sensitive optical sensor allows pulse measurements in cases when blood pressure is low and peripheral blood flow minute.
FEATURES
Digitally Programmable Alarms
An audio alarm is activated when pulse rate falls outside the low or the high limits. The alarm thresholds can be adjusted externally with digital resolution over wide pulse rate ranges.
Battery Operation with Provisions for Fast Recharging
The unit is compact with battery operation for safety and convenience. A low battery indicator warns of low battery condition. The unit will turn itself off when batteries become too low to provide accurate measurements.
Optional Plug-In Calibrator
The accuracy of the instrument can be routinely confirmed by plugging in the pulse rate calibrator which is pre-set to provide constant 80 BPM pulse signals. If necessary, a simple screwdriver adjustment will return the accuracy of the instrument to factory specifications.
Visual Indicator and Audible Tone
Pulse rate measurement is presented in large, bright LED digital displays. A red LED light flashes in synchronism with heart beats to display pulse regularity. In addition, a variable volume beep tone allows attendants to listen to the pulse rhythm.
IBS CT-1600 $ 440.00