DynaPulse 200M
Complete Home System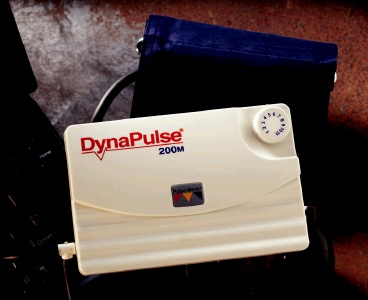 Are you concerned about your blood pressure? Does cardiovascular disease run in your family? You can get clinically accurate blood pressure and heart rate measurements at home using the DynaPulse 200M Home blood pressure monitor and your home PC. These readings are stored and displayed on your home PC, so you can track your blood pressure over time.
The DynaPulse system is easy to use.
No stethoscopes are needed. Just put the cuff on, pump it up, and let the DynaPulse and your computer do the rest! Even persons with soft heart sounds or poor hearing can take clinically accurate measurements with the DynaPulse.
The DynaPulse monitor is an affordable, clinical grade instrument.
The DynaPulse Home Monitor is one of the most reliable and accurate blood pressure monitors for home use on the market. It is one of the very few electronic blood pressure monitors for home use that is a registered medical device under FDA 510(k), and exceeds AAMI standards, yet is still affordable.
The DynaPulse system is the only product in the world to display the full pulse waveform on your computer screen.
The waveform allows you to monitor irregular heartbeats (arrhythmia) by showing you each individual heartbeat during a measurement. All of the measurement information can be printed so that you can take them to your health care provider.
Each DynaPulse 200M Home package is complete with:
DynaPulse 200M Monitor* with adjustable air release valve that allows the user to set the appropriate release rate of 30 +/- 5 seconds from start to end of a measurement. (*Monitor requires 4 "AAA" batteries)
Home user Software
Standard Adult Cuff with Hand Pump, Air Hoses and Connector The standard adult cuff assembly fits arm circumferences of 10-13.75″ (smaller and larger cuffs are available).
Serial Communications Cable
Electronic Users Guide and Quick Guide
One Year Manufacturer's Limited Warranty
Hardware and Software
DynaPulse 200M hardware was designed as a serial communications device, similar to a serial Mouse, Scanner or Modem for a Personal Computer (PC), IBM or compatible.
The software is a special application program for blood pressure measurement and data management, similar to the relationship of a printer's driver software to the hardware.
DynaPulse software controls the hardware, by initializing and turning on the Dynapulse monitor's CPU (central processing unit), acquiring data from it and performing blood pressure calculation, then displaying and storing the data and calculated information.
All DynaPulse monitors have an adjustable air release valve, a screw or a knob, that allows user to set the appropriate release rate of 30 +/- 5 seconds from start to end of a measurement. Total measurement time of longer than 50-60 seconds may give higher systolic reading and/or "Increase High Range" error message due to the cuff pressure not being able to drop down below the diastolic point
Cuffs
DynaPulse uses standard clinical grade cuffs recommended by American Heart Association. Three sizes are available: Standard Adult, Large Adult and Child Size (for age 5 and above). It is NOT recommended to use DynaPulse on infants or newborns. Oversized cuff may be purchased from any medical supply houses.
DynaPulse uses single tube cuff identical to a clinical used D-ring cuff. In any application, please make sure the tube is properly placed and is not kinked. Non-D ring type cuffs may also work with a DynaPulse unit.
Measurements Taken
The DynaPulse 200M provides clinically accurate measurements for:
Systolic Blood Pressure
Diastolic Blood Pressure
Mean Arterial Blood Pressure
Heart Rate
Reports Generated
The measurements above are displayed on your PC and stored to create a Trend Graph, so you can track your blood pressure over time. The DynaPulse 200M Home monitor will store and track measurements for up to six family members.
Individual Measurements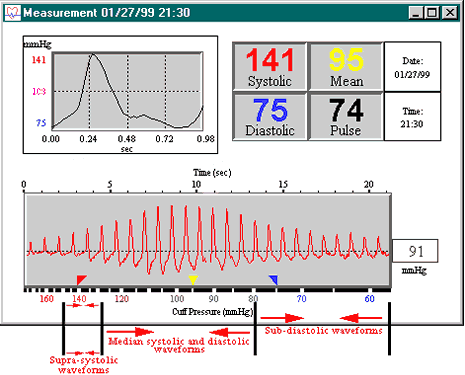 Trend Graph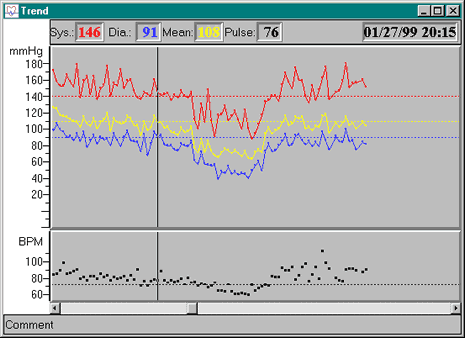 DynaPulse 200M $ 199.00