DynaPulse 5000A (Mini)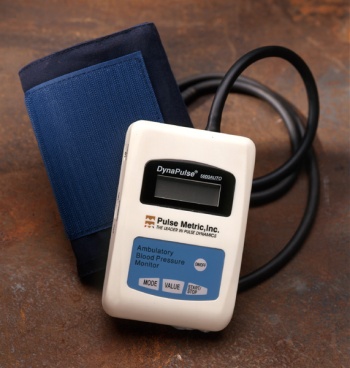 Ambulatory Blood Pressure Monitor
The Dynapulse 5000A Ambulatory Blood Pressure Monitor offers researchers and clinicians a clinically accurate, non-invasive method for capturing a 24-hour blood pressure profile of the patient for complete analysis.
Using the DynaPulse 5000A is easy. The technician sets up the monitor's measuring parameters using the computer, places the cuff on the patient and the patient is ready to go. Since cuff placement is easy, when the patient needs to remove it for certain activities, such as bathing, they can easily put it back on.
Once the monitoring period is completed the monitor is returned and the collected data is downloaded to the computer. The technician can then view and validate each measurement using the DynaPulse Analysis software. Comments can be attached to each measurement and all the information is printable or exportable to other applications.
Online Analysis
For research programs, information collected using the DynaPulse Monitor can be transmitted to our DynaPulse Analysis Center over a secure Internet connection and instantly analyzed for measurements of arterial compliance, peripheral resistance, cardiac output, and other hemodynamic parameters. DynaPulse analysis services are are currently linked to research applications.
Superior Technology
The patented DynaPulse technology offers:
Unique pattern recognition algorithm, minimizing sensitivity to artifacts, giving you a much higher percentage of successful measurements.
Increased accuracy with all three pressures and pulse rate measured individually and not estimated. Most other oscillometric devices only measure the mean arterial pressure and then estimate the systolic and diastolic pressures.
Validation of each measurement from the non-invasive pressure waveform.
Accurate measurements for patients with hypotensive, or muted, or soft heart sounds.
Ease of Use
The DynaPulse 5000A allows for easy cuff placement since there are no microphones or ECG leads
Versatility
The DynaPulse 5000A analysis software offers many different reporting formats for viewing your data.
An Extended Range of Readings
Ambulatory monitoring makes it easy to capture measurements over a 24-hour period. This extended range of readings:
Reduces effects of white coat hypertension
Separates night time dippers from non-dippers
Monitors therapeutic outcomes of medication treatments.
A Noninvasive Approach
If your focus is research, noninvasive studies save time, money, and risk.
Time – Measurements are carried out using a simple oscillometric arm cuff and the DynaPulse NIBP monitor. Validated BP data are available on site as soon as downloaded to PC. Data are forwarded to the DynaPulse Analysis Center by agreed method, analyzed for further parameters according to protocol, then returned, possibly within as little as 24 hours.
Money – Cost of these noninvasive studies is only a fraction of invasive ones. However even some noninvasive tools for measuring these parameters can be expensive, as much as $16,000 – $30,000 per unit. The DynaPulse 5000A is a medium priced ABPM monitor which can be bought by researchers or leased for a specific study. Hemodynamic parameters are analyzed inexpensively by the DynaPulse Analysis Center.
Risk – Invasive studies carry more risk than noninvasive studies. DynaPulse arterial compliance measurements have already been validated against invasive measurements in sick patients.
Each DynaPulse 5000A (Mini) package is complete with:
DynaPulse 5000A (Mini) Monitor
DynaPulse Analysis Software
Small Adult, Standard Adult, and Large Adult Sized Cuffs
USB Cable
Users Guide
Storage Case, and Other Accessories
One Year Manufacturer's Limited Warranty
All DynaPulse monitors have an adjustable air release valve, a screw or a knob, that allows user to set the appropriate release rate of 30 +/- 5 seconds from start to end of a measurement. Total measurement time of longer than 50-60 seconds may give higher systolic reading and/or "Increase High Range" error message due to the cuff pressure not being able to drop down below the diastolic point
DynaPulse uses standard clinical grade cuffs recommended by American Heart Association. Three sizes are available: Standard Adult, Large Adult and Small Adult. It is NOT recommended to use DynaPulse on infants or newborns.
Standard packages include single tubed cuffs without a 'D' ring. 'D' ring type cuffs are available upon request
Measurements Taken
For the researcher, data collected by DynaPulse monitors may be transmitted to the DynaPulse Analysis Center for analysis of up to 18 hemodynamic parameters including:
Brachial Arterial Compliance
Peripheral Resistance
Cardiac Output
Left Ventricular Contractility
Stroke Volume
Reports Generated
Here are examples of the many statistical reports generated by the DynaPulse software.
Trend Graph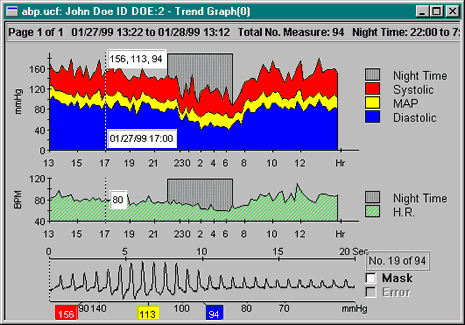 Hourly Time Slice

DynaPulse 5000A $ 2495.00