Introduction and Frequently Asked Questions
In order to make your visit as time efficient as possible we are using a Frequently Asked Questions (FAQ) format so you can go directly to the questions of primary interest. Please, most FAQ's relate to all three types of Certifications – General, EEG and Pelvic Muscle Dysfunction (PMD) – and some relate to a specific type of Certification:
Erik Peper, Ph.D, Tenured Faculty, Director of the Institute of Healing Studies, San Francisco State University, Director of the Biofeedback and Family Therapy Institute, Berkeley. Past President of BSA. Author of MIND/BODY INTEGRATION, FROM THE INSIDE OUT, CREATING WHOLENESS and HEALTHY COMPUTING THROUGH USING BIOFEEDBACK writes:
"Ever since our first meeting in 1971, I have been impressed by your integrity, perseverance and skill in developing, supporting and servicing both portable (personal use) and computerized biofeedback systems. I am extremely satisfied with your service – every time we needed support. YOUR ORGANIZATION CAME THROUGH 100 PERCENT . Your policy of handling all biofeedback computer systems and instruments is extremely helpful for the practitioner. With the wide variety of equipment, and broad experience. you can design a system that is appropriate and least expensive for the practitioner. For me, your suggestions have always been helpful. I truly feel that you have put the long term perspective- developing biofeedback and self-regulation as a field-over a quick profit. Those of us who have been devoted to biofeedback learning from the beginning are keenly aware of the special dedication and immense investment required to create, sustain and build a biofeedback technology, training and service organization. It is your standards of excellence. cost containment, and training capabilities that provide benefits for your clients and their thousands of patients. I look forward to consulting with you on enhancing peak performance strategies at work and at play. Hopefully. my past experience as the behavioral scientist for the United States Rhythmic Gymnastic Team and other performers will enrich your program. In addition I am excited to share with you my newest findings on breathing and teaching our nonpharmacological approach for the treatment of asthma to therapists and biofeedback professionals."
1. When and where is professional training available?
2. What is Biofeedback, Neurofeedback and Applied Psychophysiology?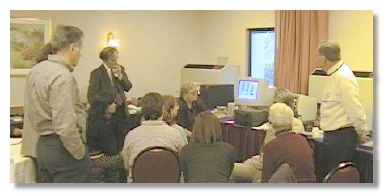 "Wonderful opportunity. Positive learning environment. Technically on target, practical, good depth. I appreciated inclusion of theoretical and philosophical discussion. Super learning experience." - Dick A. Genardi, Ph.D., Director Behavioral Health Associates, Inc.,Dayton, Ohio
There have been scores of books written on Biofeedback, Neurofeedback and Applied Psychophysiology. We introduce you to those we feel are the best and most relevant of them through our training,website etc. New books for the general public and several for professionals have been published recently. Most of the focus at present is on Neurofeedback because it is the most dramatic and fastest growing type of biofeedback. One of those books is our own, MINDFITNESS TRAINING: Neurofeedback and The Process.
There have been thousands of scientific studies in this field - many of them published in the most refereed journals in their respective disciplines. Some world class scientists, practitioners and neurophilosophers believe that biofeedback and neurofeedback discoveries rank among the most important technological, educational and medical breakthroughs of the last several centuries. If you consider that self-knowledge and heuristic (self) learning are generally considered to be the most important skills most human beings can develop, then it is easy to understand why biofeedback is receiving so much attention.
The simplest explanation is that biofeedback is the use of instrumentation to feed back information about the psychophysiology (mind and body) of a human being to him or herself. Given this information most individuals can increase their control (self-regulation) of whatever activity is being monitored. Things begin to get exciting when we look into the implications of these extraordinary levels of control and what the benefits are to those learning these high levels of self-regulation.
The resulting profound mind/body changes are applicable to over four hundred common clinical disorders and the list is growing continuously. There are also extraordinary applications to Performance and Life Enhancement. This means there are many forms of biofeedback and many types of instrumentation. Some of the most common are: electromyograph (EMG) Electrical activity of the muscles (Voluntary Nervous System), Electroencephalograph (EEG) Electrical activity of the brain (Central Nervous System), Temperature (TEMP) Peripheral blood flow, Electrodermal Response (EDR, SCR, GSR, etc., Sweat Gland activity, Heart Rate (HR) including the extraordinarily exciting new field of neurocardiology), and Blood Pressure (BP) all Autonomic Nervous System measures. Applied Psychophysiology is the large field of study of the mind and body and the practical applications of that research. Biofeedback and Transactional Psychophysiology are important parts of this greater field.
3. Who can practice Biofeedback and Neurofeedback professionally?
There are now so many applications for self regulation technology that it is difficult to find a form of health care which cannot benefit from Biofeedback. A partial list of health professionals reporting that biofeedback has brought important benefits to their patients and their practice includes physicians, psychologists, physical and occupational therapists, nurses, speech pathologists, chiropractors, dentists, social workers, human resource specialists, counselors, teachers, and many other medical and mental health professionals.
Besides the professionals listed, there are many who do not have traditional health care or educational professional credentials, but who have found entry into this field through acquiring biofeedback training and working under the 'umbrella' of those who do have the requisite credentials. This can be an exceptional win-win for both parties. If you are not sure whether you can find a way to be successful in the biofeedback field, call us. We should be able to clarify the opportunities for you.
4. Is Certification necessary in order to become a practitioner?
Technically no, at least not so far. In fact over 50% of practitioners are not certified and that includes some of the most successful in the field. Some of these uncertified practitioners could easily qualify for certification and some of them cannot.
Certification is a process, and fulfilling the requirements can take some time. The best strategy is to simply acquire the appropriate professional training such as the courses we offer, and simultaneously work on certification requirements. One does not get certified and then practice. The candidate gets started working with patients and then works down the certification requirements. We want to encourage all those who can qualify to go through the certification process. It can justify the cost and time from a marketing perspective alone.
5. What does a person need to learn to get started?
Depends on who you talk to. We have been answering this question from practitioners eager to get started since 1971. Biofeedback is already a vast and growing scientific art form. Obviously, one who hopes to master it is learning throughout his career.
Learning the basic traditional biofeedback or neurofeedback skills.
Acquire a comprehensive overview of the field.
Understand what additional training will be needed in order to achieve excellence and how to acquire that training.
Learn to operate equipment well enough to begin self training and the training of properly screened 'easy' clients.
Understand ethical and supervision issues.
Acquire enough training so that the potential practitioner can decide what equipment will serve their needs best.
Since 1971 we have brought professionals inexperienced in biofeedback to proficiency in short, inexpensive, intensive programs. As soon as the BCIA Certification Program was created we developed one of the most successful, time-tested and investment efficient BCIA Certification Training Programs in existence, and we are continuously improving it. We vigorously support the BCIA and urge everyone who can qualify to get certified as soon as it is practical.
6. What Certification is available?
The Biofeedback Certification Institute of America is the most prominent international certifying organization. The BCIA has both traditional Biofeedback, Neurofeedback and Pelvic Muscle Dysfunction certification programs. The National Registry of Neurofeedback Practitioners (NRNP) also has a certification program for Neurofeedback only.
7. What is the Biofeedback Certification Institute of America?
The Biofeedback Certification Institute of America (BCIA) was created in January 1981 to establish and maintain standards for practitioners who use biofeedback, and certify those who meet these standards. BCIA is an autonomous nonprofit corporation. Its primary mission is to protect the public welfare by assuring the competence of certified biofeedback practitioners. BCIA policies and procedures are determined by an independent board which is comprised of a rotating group of distinguished biofeedback clinicians and researchers.
In 1996 the Board of Directors of the Biofeedback Certification Institute of America and the Academy of Certified Neurotherapists collaborated to develop a specialty certification in EEG Biofeedback to be managed and administered by BCIA. The opportunity to certify through the grand parenting process ended on December 31, 1997. As of 1998 the formal certification program in EEG Biofeedback is underway. In 2004 certification in Pelvic Muscle Dysfunction was added.
8. What are the benefits of Certification in either General or EEG or PMD Biofeedback or all three?
BCIA provides the credential of acknowledged expertise in the specialized area of EEG Biofeedback.
Listing in the annual BCIA Register of EEG Biofeedback Certificants provides a valuable resource for client referrals.
Certification provides improved stature for the whole field of EEG Biofeedback.
Certification brings recognition when employers request information on specialty training and credentials for job descriptions and reviews.
Certification brings recognition among peers.
Listing on the BCIA website means potential clients can find you easily. The BCIA website is linked to Dr. Andrew Weil's website which further widens your exposure.
Some third party payors are beginning to place a substantial value on certification.
Some practitioners will find Certification worth the effort for the marketing value alone.
9. What training does Health Training Seminars Offer?
We are a full service Biofeedback and Applied Psychophysiology training and consulting organization. Besides the BCIA General and EEG Clinical Certification programs we also can show you how to obtain the new PMD Certification. We offer Performance and Life Enhancement (MindFitness® Training), coaching, online training, internships, BCIA mentoring and consulting. We consult and mentor using the Internet Voice Over Internet Protocol (VOIP). We conduct two way video transmission and can even (with your permission) take over control of your computer should you need it for learning or tech support.
10. What are the requirements for certification?
Go to our seminar and training description. If you have further questions please call or email us. The training described therein serve both for certification and non-certification training purposes. The BCIA Certification Training Series is an outstanding solution to the challenge BCIA certification candidates face acquiring the necessary didactic instruction and mentored training in the most economic and time efficient way. Our complete certification training programs meet all didactic and mentored training criteria required by the Biofeedback Certification Institute of America in order to take the certification exams. It is based on the BCIA blueprint for certification and recertification, and participants receive certificates for each seminar completed. Note we are fully qualified to do BCIA mentoring and some of the mentoring requirements are provided within our seminars at a fraction of the normal mentoring cost. However, the balance of the mentoring should be with the mentor that best suits your learning goals and circumstances. We can usually assist you in finding that mentor. Of course, often that mentor is part of our team.
For over 19 years we have been aggressively attempting to persuade the BCIA to make it easier and less expensive to get certified. We are encouraged because the BCIA board has made major steps in that direction. The expense and difficulty of getting BCIA certified has been substantially reduced and simplified by the board and we have, therefore, modified our seminars in order to immediately pass all of those advantages on to you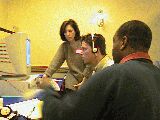 We will continue to advocate for additional changes in the BCIA Certification Process. Our position is that as many people as possible should be brought into the 'certification fold'. We believe the best strategy is to have levels of certification from entry level associates to Diplomate etc. The principle is that once practitioners are on board we can influence those that need more training, and provide opportunities for them to upgrade their skills. If they are excluded we lose that opportunity and weaken our strength internationally. After all, they simply go ahead and practice anyway. In fact, some of them are among the most successful practitioners in our field. We are grateful for the boards actions and we hope that they will continue to streamline and make the certification process more compatible with the realities of our rapidly changing health care system.
The BCIA Examination Process
Written Examination
Based on the nine blueprint areas a three hour standardized multiple-choice examination is required of all applicants. The examination is based upon the nine blueprint area. Examinations are offered twice per year in various locations in the United States. Special examinations proctored by a local college or junior college may be arranged at low cost.
Sequence for Meeting Certification Requirements
The BCIA Board highly recommends that candidates be seated for the written examination after they have completed all the certification requirements. The Board does recognize, however, that there may be factors which make it more convenient and effective for the candidate to take the exam before having completed all of the other requirements.
Mentoring
There are many individuals who quality for mentoring including several who are part of the HTS team. The key when looking for the appropriate mentor is to try to find someone who can advise you in a way that most relates to your areas of special interest and who can assist you in learning to make your practice both a clinical and economic success.
11. What is the content of the clinical, certification programs?
Go to our seminar and training description. If you have further questions please call or email us.
Since EEG Biofeedback is more difficult to understand for many, we will go into a bit more detail describing the material we do our best to cover. There may be some variance in seminars depending on the needs of the participants. Some of the material outlined below is also covered in the General Biofeedback Certification Program. Also, some subjects (business models and strategies, QEEG etc.) are potentially much greater than can be covered in this time period. If additional time is needed on any subject we can provide it through coaching or consulting services at low to moderate cost.
History of General or EEG Biofeedback
Overview of most influential research.
Hypothetical and theoretical models of how General and EEG biofeedback works.
Evolution of the technology and economics.
Certification opportunities.
The Basics
Overview of physiology, physics and electronics relating to General and EEG Biofeedback
EEG Biofeedback Training.
Characteristics of normal, dysfunctional and super functional EEG patterns.
Intake, screening, pre testing, establishing beginning base line.
Quick strategies for personal training and gaining clinical skill.
Overview of equipment available, clinical and research strengths, weaknesses.
Internships, advanced training and consulting.
Patient safety, artifact recognition, instrumentation accuracy.
Ethics.
Hands On Equipment Operation
Demonstration of single channel and multiple channel systems,
How to do fast, low impedance, comfortable, hook ups, single and multiple channel,
Monopolar, Bipolar and linked ears.
Computerized EEG Biofeedback made simple for the beginner.
Substantial time on equipment role playing as both patient and therapist.
Pattern recognition - Use of Compressed Spectral Arrays.
Optimizing Your Start Up and Other Practical Considerations
The KISSS (Keep It Super Simple Samurai) High and Low Frequency Decision Tree Model of CNS Self Regulation Strategy, a relatively simple yet powerful, common sense, systematic approach that is applicable to virtually all EEG Biofeedback protocols.
TOVA, IVA, and other computerized assessments.
When and how to adjust training protocols as symptoms change.
Developing treatment plans, increasing learning curves.
Data analysis, record keeping, statistical efficacy.
Training outcomes and success criteria.
Advanced Considerations
Methods of learning advanced strategies and upgrading skills.
Synchrony Training, an extraordinary Clinical and Performance Enhancement strategy.
MindFitness Training©, a heuristic*, performance enhancement training program for practitioners, patients and the general public - Targeting Business, Sports, Education, Art, Personal Growth.
The role of brain mapping (QEEG).
Personal Home Trainers, increased training time.
Whole Body Mapping and integration of other modalities (EMG, TEMP, SCR, Respiration, Blood Pressure etc.).
States and qualities of consciousness and their relationship to EEG.
* Heuristic, the method in which the learners discover for themselves, while reducing dependence on past experience and outside authority, to the minimum wisdom deems necessary.
Emerging EEG Biofeedbacks Areas of Clinical and Research Interest
ADD / ADHD
Substance Abuse
PTSD
Learning disabilities, Autism
Adult and childhood sleep disorders
Depression
Multiple Personality Disorder
Stroke rehabilitation
Pain Management, headaches (Migraine and Tension), RSD, Fibromyalgia, Phantom Limb etc.
Dementia (non-Alzheimer's)
Tourette Syndrome
Anxiety Disorders and Panic Attacks
Chronic Fatigue Syndrome
Eating Disorders
Other areas as time permits
Business Models - Applies to both General and EEG Biofeedback Seminars
Third party, private pay and self insurance, public sector funding
Performance Enhancement for the general public ( i.e. MindFitness Training), individual and group
Strategies for expanding General or EEG Biofeedback practices
Integration of General or EEG Biofeedback with medical, mental health, chiropractic, educational and other types of practices.
Who We Are
We have been training professionals in both General and EEG Biofeedback for over thirty five years. In fact, many of the most successful practitioners and researchers in this field have been trained by our team. Our long term relationships with these leaders, and ongoing research, allows us to continuously refine our training program, demystifying the many General and especially EEG Biofeedback protocols. Our teams have been world leaders in many of the most successful technology and training innovations in biofeedback - especially EEG Biofeedback. Recent developments are allowing us to continue the innovation process with increased vigor.
12. Why choose this program?
A. Because there is a dramatic difference in training programs which can significantly enhance your success. For more than thirty five years our professional training seminars have been constantly improved by clinical and research leaders. The result is a uniquely powerful method of teaching:
How to pass the certification requirements
How to achieve consistently high quality clinical results,
How to understand the CURRENT economic realities necessary to assure success
B. Cost. Compressing the training into the shortest time possible, holding the training in comfortable, attractive, reasonably priced locations, equipment acquisition training credits, matching you with the right mentoring for your circumstances are combined to deliver what we believe to be the highest possible return on your investment.
C. Innovation. We have consistently brought new training, coaching and consulting ideas, new treatment strategies, new equipment and new ways to use old equipment to the general biofeedback and, especially, the neurofeedback communities.
13. What will I learn?
The basics of General or EEG Biofeedback, many advanced applications, adjunctive techniques including Autogenic training, guided imagery, integration of hypnotherapy strategies, diagnostic and assessment techniques, strategies for rapid therapy, MindFitness® performance and life enhancement strategies, how to choose best equipment for your applications, most up to date business models and much more. See course descriptions etc. for additional information.
14. How well established is Biofeedback in traditional and integrative medicine?
Biofeedback is Solidly Established in both Mainstream and Alternative Medicine and Mental Health. The term Complementary Medicine seems to be replacing Alternative Medicine because it is becoming increasingly clear that both mainstream and alternative health care must come together in every sense including funding. Many forms of Biofeedback entered the mainstream of medicine and mental health long ago, and in the aggregate have been growing steadily both in terms of number of applications and total revenues.
Biofeedback is growing because it works. Biofeedback enhances an extraordinary variety of therapies by showing the patient how to participate in his or her own healing process and improving the therapist's credibility and teaching efficiency. Furthermore, the same equipment used to train the patient is also used to do assessments, thereby documenting the results.
Reimbursement by third party payors, workers compensation, public sector funding, private pay and self insurance has also grown for over thirty five years. Our BCIA Training Series integrates clear didactic instruction, hands on instrument training, and clinical demonstrations utilizing methods that simplify the start up process for the beginner, while providing important insights and advanced applications for the more experienced practitioners.
15. What consulting services do you offer?
Since 1971 we have been training and equipping health care professionals, and helping them solve the problems attendant to delivering and marketing quality General and EEG Biofeedback services. We have enjoyed watching many of them grow from tentative, startup programs, utilizing minimal cost EMG's and temperature trainers (in order to "do a little relaxation and headache work on the side,") to full-blown biofeedback clinics offering many specialized biofeedback protocols. Many clients have expanded into multiple offices.
There are special advantages that we can bring to the practitioner as a result of our close relationships with many of the most gifted and successful biofeedback clinicians and researchers practicing today. These special relationships have come about because of our ability to assist in the selection of training equipment, writing justifications and grant proposals, solving hardware and software problems (in many cases for the first time ever and "ahead of their time"), and exceptional expertise in showing practitioners how to understand the business aspects of biofeedback and the best way to successfully implement them.
As you can see from our endorsements, one of the ways we make a contribution is by anticipating the next evolution in applications and technology, and sharing that not only with our clients, but often with the competition with whom we have respectful, often friendly relationships. In fact, we ourselves are continuously developing technology, software and techniques that enable practitioners to put these powerful new treatments and educational methods to work faster and for lower investment than would otherwise be possible.
Our consulting methods are basic, solid and founded on long established precedent. By asking and assisting you in finding the answers to a series of questions about your practice, we identify your existing resources, strengths and areas of vulnerability. Drawing on our knowledge of the success patterns of many biofeedback practices, we assist you in identifying those strategies which can increase the quality of services delivered, profitability, growth curve and patient and practitioner satisfaction. After agreeing on the consulting goals, we estimate costs and work with you to make it happen. We become part of your team for as long as required.
Whether you are just beginning your biofeedback operation or are well established and want to expand, putting our expertise to work for you will help guarantee the best Return-On-Investment possible.
16. Why do you differentiate between General Biofeedback and EEG Biofeedback ( Neurofeedback)?
Neurofeedback is one modality of traditional Biofeedback; however, it has such depth and potential that it requires its own training and certification program. Of course, we present a strong introduction to Neurofeedback in the General Biofeedback training.
17. Who is on the Health Training Seminars faculty?
18. How do I build a successful Biofeedback practice?
A personal sense of mission is the best foundation upon which to build success. Such a sense of mission about biofeedback may not be so hard to achieve because the tools which reduce suffering and enhance self knowledge are surely technology at its highest. Therefore, the better your training and equipment the quicker you will integrate this scientific art form with your own therapy style, the deeper will be your inspiration and the greater your enthusiasm. "Nothing of importance can be accomplished without enthusiasm." Emerson
There are two fundamental considerations:
Acquiring the correct equipment and training.
Making the economic aspects of your practice work.
The Economics Of Biofeedback
Some of our clients are so economically sophisticated that we consult with them so we can pass their expertise on to those who need it. However, many health care professionals need assistance in developing the business side of this science and art. General business knowledge for this field is relatively easy to come by, and we usually cover it in our seminars and with clients who acquire equipment from us. However, the most successful practices go beyond general economics to the acquisition of specific information that allows them to maximize their unique circumstances. Our consulting services meet this need and those who have used them report a high return on their investment. Biofeedback practices range from small adjunctive services comprising a small percentage of a particular health care enterprise to multi million dollar profit centers. Whatever your goals in this area, we can help you get there. Obviously, you can call us and we will answer questions for you until you feel you can make the best decisions for your circumstances.
19. How do I select the right equipment for me?
Our clients tend to fall into two groups:
Those who have been referred by someone who is successful and enthusiastic about us. Their attitude is: Tell me what I need, train me, give me outstanding support, a fair price and do it fast.
I'm talking to everybody I can and you have to convince me that working with you will produce the best results for me.
With either type, in the end the majority acquire some combination of the following equipment categories:
Category one is equipment for General, mainstream, medical, Biofeedback (All modalities as used in behavioral medicine, rehabilitation, pain management, applied psychophysiology etc.)
Category two is EEG Biofeedback (Neurofeedback).
Two strategies for acquiring the right equipment for you are:
Acquire equipment and minimal training and begin practicing in a careful, responsible way on yourself, friends and easy clients. Then as quickly as your schedule permits attend quality seminars and or obtain hands on training from the best you can find.
Obtain training first and then acquire equipment.
From a practical point of view, strategy one works best if you are confident that you are working with the right team and are, therefore, acquiring the right equipment, because you will get more out of the formal training if you have done some hands on work before.
This strategy is often successful because when the right questions have been answered the most cost effective equipment becomes choicelessly clear. Besides, our policies virtually guarantee the right choice as well as easy ways to correct the situation should an after the sale change be necessary.
Strategy two works well also. By training on the equipment, knowledge and confidence build until the best decision is clear.
We will give you all the assistance you need in making the best possible equipment and training decisions. We will answer your questions until you have as much in depth insight into everything that is out there as you wish. We will prepare as detailed a proposal as you require and even do a cost justification if needed. Furthermore, we will guarantee that you make the right decision by giving you a grace period to try out certain of the most popular systems. If somehow you feel you have made a mistake we take selected system back and give you full credit toward one of the other fine systems we handle.
20. How is my timing for entering this field?
The Timing is Right. Economic and quality of life pressure is forcing the American Health Care system to transform itself incredibly fast from a true historical perspective. One of the most fundamental and critically necessary strategies for reducing long term health care costs and improving health and quality of life is appropriate, timely, psychological and educational interventions. For these reasons many of our best scientific thinkers believe that the growth of Biofeedback and Applied Psychophysiology is assured far into the next century and beyond.
Biofeedback and Applied Psychophysiology attracts traditional and mainstream patients as well as those interested in alternative medicine. The New England Journal of Medicine stunned the health care world when it reported that alternative medicine almost equals traditional medicine in terms of gross dollar volume.
Biofeedback is solidly established in mainstream and alternative medicine as well as mental health. The term 'integrative or complementary medicine' seems to be replacing alternative medicine because it is becoming increasingly clear that both mainstream and alternative health care must come together in every sense including funding. Many forms of Biofeedback entered the mainstream of medicine and mental health long ago, and in the aggregate have been growing steadily both in terms of number of applications and total revenues.
Biofeedback is growing because it works. Biofeedback enhances an extraordinary variety of therapies by showing the patient how to participate in his or her own healing process, and improving the therapist's credibility and teaching efficiency. Furthermore, the same equipment used to train the patient is also used to do assessments, thereby documenting the results.
Total reimbursement for biofeedback by third party payors, worker's compensation, public sector funding, private pay and self insurance has grown for over thirty five years.
Health Training Seminars BCIA Certification Series integrates clear didactic instruction, hands on instrument training, and clinical demonstrations, while using methods that simplify the start up process for the beginner, and provide important insights and advanced applications for the more experienced practitioners.
Health Training Seminars Offers Innovative Combinations which enable the practitioner to get highest quality training at lowest cost with least time away from the office. Call for details.
21. Is the technology difficult to master?
Technological Hand Holding:
Many therapists are not technically oriented; therefore, there is often concern about the technological side of biofeedback. If this applies to you, relax. Previous experience in biofeedback, self regulation learning, instrumentation and computers is unnecessary. We are expert at helping therapists become as technologically proficient as they need to be, quickly.
However, some systems are much easier to operate than others; therefore, consultation prior to acquiring technology is a good idea whenever possible.
22. Do you offer internships?
We can usually refer you to one of the clinics that we have close relations with for internship training. The goal is to try to match you up with those practitioners who are successful at the specialties that you are most interested in. This goes for mentoring and consulting as well.
23. Do third party payor's reimburse for Biofeedback?
Certainly. However, as is the case in all of medicine and mental health there is an art to maximizing your return from any health care service or product. There is no form of health care that takes third party pay for granted these days. Those practitioners who have the greatest economic order devote time and resources to figuring out best ways to manage managed care, HMO's and third party payors. Often this means that the mix of private pay and self insurance needs to be increased. That is, when third party pay makes sense, take it. When it doesn't (and as is usually the case, you have the option) don't take it. Instead invest the same time and resources in developing your private pay and self insurance business and other services. Biofeedback can be exceptionally productive at this stage. One of the strengths of Biofeedback and Neurofeedback is that adding these services can substantially add to the bottom line of most practices.
There are specific CPT codes for various biofeedback services. However, another advantage of being proficient in the operation of computerized biofeedback equipment is that the same equipment is used for many assessment, testing and diagnostic procedures further adding to your revenue stream. This means there are far more ways to bill for biofeedback besides the classic biofeedback CPT codes. We all know that health care is bifurcating and the most successful practices usually combine third party payor, private pay and self insurance and sometimes public sector funding. In fact more dollars are collected today throughout the entire health care system from private pay and self insurance than from all third party pay sources combined. Biofeedback attracts the 'Actualizer' segment of the Value Added Lifestyle Survey (VALS). These are trend setters and practice builders. We have always devoted considerable time in our training seminars to assisting our clients in developing better business models and thinking in ways which turn many of the challenges the current health care system faces into opportunities.
24. What are the educational objectives?
The Educational Objectives of our certification series are:
A. To provide the most comprehensive, effective, practical Professional Biofeedback training available anywhere.
B. To train all candidates so that they will be capable of passing the BCIA exam with highest possible scores.
C. To provide the insight needed so that the candidates will achieve success as rapidly as possible in those Biofeedback and Applied Psychophysiological applications of choice.
Our training represents an exceptional opportunity to receive comprehensive, practical, professional Biofeedback training, regardless of whether or not you complete the certification process.
25. Do you offer online training?
For almost thirty years we have been assisting practitioners in getting the training they need in order to be successful in biofeedback. However, there have been others who simply could not afford to come to our seminars (we have many international clients). Also, there are those who want to get a good grounding in biofeedback before they come to the seminars. Others who want to be able to review the science as preparation for taking the BCIA exam or just to learn more. Finally, there are those who want to get basic training in order to learn enough to make a sound judgment as to whether they are ready to commit to more in depth training and the travel etc. required to attend the seminars.
We offer three, free online introductory courses: Introduction to General Biofeedback, Introduction to EEG Biofeedback, and Introduction to MindFitness Training. In addition, we offer:
The ONLINE BIOFEEDBACK BOOTCAMP© provides an outstanding solution for all of these categories of clients. This course delivers the opportunity to obtain excellent training at extremely low cost. This ONLINE BOOTCAMP is estimated to be equivalent to 10 hours of the didactic portion of our BCIA Certification training seminar (BCIA accreditation pending).
26. How much will it cost me to get started?
On the one hand the minimum cost for a clinical grade stand alone biofeedback EMG or temperature trainer is about $750.00. On the other hand asking the question from a more business like perspective is wiser for most just starting up. If you agree with us that the superior business model is to get appropriate training and a reasonable quality computerized system, then total costs could range from $5,000 to $10,000 and even more depending on the needs of the practice.
Most practitioners will qualify for a lease ($1.00 buy out at the end). $5,000 worth of equipment would cost about $117 - $122 per month for 60 months. $10,000 about $230 - $250. 12 months at $250 per month equals $3,000 per year. Patients generally bring in $3,000 to $6,000 per disorder treated and some biofeedback patients are treated sequentially for more than one disorder. So one new patient per year pays for the entire system and probably training as well. If you use your own funds the amortization rate makes the pay back even faster and less expensive. There are few small business opportunities with numbers as favorable as these. In addition the type of clients that feedback attracts are 'Actualizer' practice builders and typically bring in referrals and requests for additional services from those practitioners who can handle them. Remember, the same equipment is usually used for billable assessments and tests, etc. Further increasing the revenue per patient beyond the $3,000 to $6,000 amount.
27. Are There alternatives to BCIA Certification?
Yes, although the situation is in flux. Best thing to do is call us and we will bring you up to date on those alternatives that we think have merit.
28. Why Choose This Program?
A. Because there is a dramatic difference in training programs which can significantly enhance your success. For more than thirty five years our professional training seminars have been constantly improved by clinical and research leaders. The result is a uniquely powerful method of teaching: How to pass the certification requirements; How to achieve consistently high quality clinical results, How to understand the CURRENT economic realities necessary to assure success.
B. Cost. Compressing the training and mentoring into the shortest time possible; using every strategy available to reduce costs through Internet, home training, telephone etc.; free online introductory training, holding the training in comfortable, attractive, reasonably priced locales; equipment acquisition training credits; matching you with the right mentoring for your circumstances are all combined to deliver what we believe to be the highest return on your investment. Programs may be custom designed for your facility.
C. World Class Faculty. See faculty description..