Finance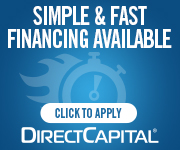 Click For Immediate Response Financing Application
Why Should I Lease My Equipment?
Advantages of Leasing/Financing
Lease
Cash
Bank
You acquire equipment without a substantial cash outlay.
Yes
No
No
You upgrade or add equipment without difficulty.
Yes
No
No
You match payments to your current cash flow.
Yes
No
No
You avoid affecting your bank lines of credit.
Yes
No
No
You delay payments until after the equipment begins to pay off.
Yes
N/A
No
You get approval for financing in one day (upon receipt
of required credit information).
Yes
No
No
You deduct all or most of the monthly payments from
your taxable income.
Yes
N/A
No
— It just makes sense! —
Pay only *$195 per month for $8,800 worth of equipment.
That's enough for an 8 channel system including all suggested modalities with a computer, monitor, and color printer.
* Estimate on 60 month term with $1 buyout at end of term.
---
Complete Form to be Contacted to Discuss Leasing