MyoTrac Infiniti™
Download MyoTrac Infiniti brochure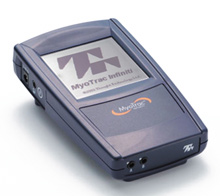 MyoTrac Infiniti™ redefines the field of muscle re-education and rehabilitation by incorporating unique features designed to meet a wide variety of needs and budgets for clinical, research and home use. The clinical system is further enhanced by the powerful BioGraph
MyoTrac Infiniti systems allow you to measure high-resolution surface electromyography (SEMG) and perform electrical stimulation in a large number of configurations. The MyoTrac Infiniti stands apart from the competition by also performing SEMG-triggered stimulation. SEMG is used to trigger stimulation, to help patients improve volitional activation of target muscle groups. This combination of three modalities enhances treatment possibilities and eliminates the requirements for multiple devices.
The Platform is divided into three main products: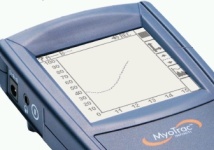 MyoTrac Infiniti™
Stand Alone device with touch screen
Bargraphs, linegraphs, stats
Adjustable gains
Statistics stored to memory
Patient lock feature
MyoTrac Infiniti Clinical
All the features of MyoTrac Infiniti plus:
Data stored on compact flash cards from standard MyoTrac Infiniti units can be transferred to the BioGraph Infiniti clinical systems database.
On board memory – saves SEMG statistical summary data.
PC USB interface – allows live recording to BioGraph Infiniti software, powers the unit and recharges the batteries. ·
Includes BioGraph Infiniti PC software and specialized Rehab Suite.
MyoTrac Infiniti Dual SEMG and Dual SEMG Clinical
Ideal for those who do not require stimulation. Includes the same SEMG features as the MyoTrac Infiniti. A clinical version with the BioGraph Infiniti software is also available.
Features:
Battery Charging – External power supply included
Rugged Ergonomic Case with Beltclip
Headphone Jack
Audio feedback Variable pitch tone: proportional to the signal or above or below threshold.
2 Channel SEMG + Stimulation
MyoTrac Infiniti is delivered with a set of pre-programmed protocols: 50 Stimulation, 30 SEMG, 30 SEMG-triggered stimulation.
Easily create and save your own protocols for SEMG, stimulation and SEMG-triggered stimulation, using a series of intuitive and guided screens with touch-screen technology.
Review your SEMG sessions directly on the unit in a statistical summary format, or replay saved sessions from compact flash.
MYTRAC INFINITI $ 1600.00

MYTRAC INFINITI CLINICAL $ 2500.00

MYTRAC INFINITI DUAL SEMG $ 1500.00

MYTRAC INFINITI DUAL SEMG CLINICAL $ 2400.00