DynaPulse Pathway System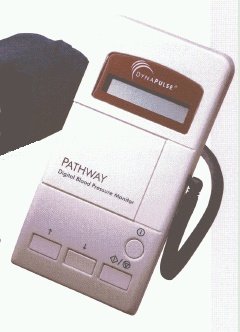 The DynaPulse Pathway System uses software patterned after the DynaPulse 200M series. Though this software has a newly designed algorithm that produces blood pressure measurements that correlate to readings obtained manually in a physician's office. The Pathway will track unlimited number of patients and their data while producing a choice of trend graphs to report the blood pressure measurements. With a couple of clicks you can easily upload data to the DynaPulse Analysis Center for further hemodynamic parameter studies. It is an auto-pump for easy cuff inflation and is AC/DC powered.
Flexibility
The DynaPulse Pathway System can be used in several areas:
Hypertension
CHF (Chronic Heart Failure)
Weight Control
Diabetes
Smoking Cessation
Hyperlipidemia
Various Cardiac diagnoses
Hemodynamic Analysis (Internet Services)
Monitoring Plus+
Unlike other blood pressure monitors, the DynaPulse Pathway serves as a tracking and reporting tool for an unlimited number of patients. The auto-pump feature also allows for interval cycle measurements.
Affordability
The DynaPulse monitor is an affordable, clinical grade instrument. It is one of the most reliable and accurate blood pressure monitors on the market. It is a registered medical device under FDA 510(k), exceeds AAMI standards, and yet is still very affordable.
Each DynaPulse Pathway System package is complete with:
DynaPulse Pathway monitor
DynaPulse Pathway software on CDROM
Serial Communication Cable
Large, Standard, and Small adult blood pressure cuffs without D-bar
DynaPulse Pathway User's Guide
AC power cord
One Year Manufacturer's Limited Warranty
All DynaPulse monitors have an adjustable air release valve that allows the user to set the appropriate release rate of 30 +/- 5 seconds from start to finish of a measurement. Total measurement time of longer than 50 seconds may give higher systolic readings and/or "Increase High Range" error message due to the cuff pressure not being able to drop down below the diastolic point.
>It is NOT recommended to use any DynaPulse device on infants or newborns.
DynaPulse Pathway uses a single tube flat cuff and D-ring cuffs are available for easier self application.
Measurements Taken
As with all DynaPulse monitors, the Pathway measures:
Systolic Blood Pressure
Mean Arterial Pressure
Diastolic Blood Pressure
Reports Generated
Measurements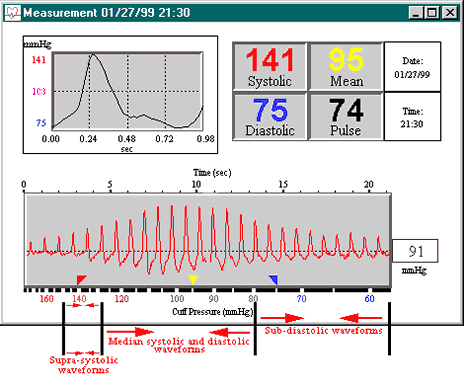 The Measurement screen is the display of the results of a blood pressure reading. To the upper right side you will find the measurement results.
Along the lower portion is the Pulse Waveform, which is what you use to detect arrhythmia's and for validation purposes. Once you save the data it will automatically update all the trend information.
Trend Graph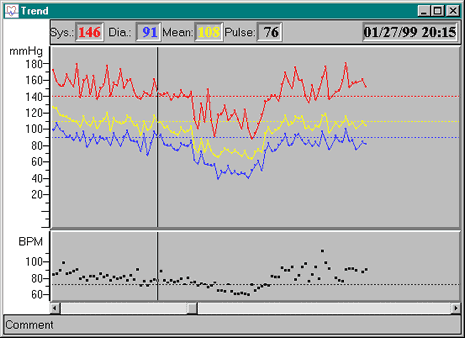 The Trend Graph is the first screen that appears when you click on a patient's name. This shows the blood pressure readings for that patient over time.
Visually you and your patient can easily see how their blood pressure is doing over time. Time is shown on the horizontal axis and the measurements are on the vertical axis.
Trend Analysis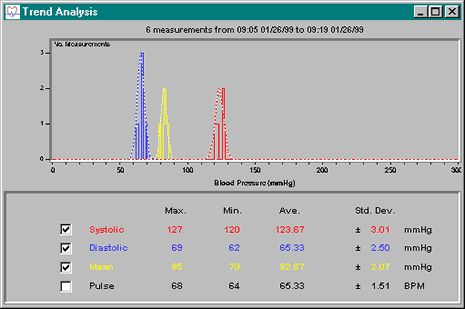 The most important screen is the Trend Analysis. This provides a statistical report based on the Trend Graph. Use the Trend Analysis to document numerically the results of your interventions:
How effective is the current medication compared to the older medication?
What is the change in blood pressure?
The Trend Analysis includes averages and standard deviations for each measurement parameter. You can segment the data from the Trend Graph to produce reports with different data parameters, such as, the measurements from June and another parameter using July.
DynaPulse Pathway $ 995.00