The Voltage Isolator 4 Infiniti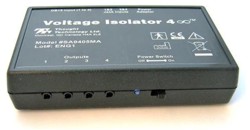 Thought Technology: The Voltage Isolator 4 Infiniti is an interface device which provides electrical isolation. It will allow Thought Technology's systems to be safely interfaced with analog outputs of line-powered systems, such as computers with DAC cards, isokinetic dynamometers (such as Biodex System), or force platforms.
It comes with different input ranges (set at factory on demand, when ordered): +2.5V, +5V, +10V, 0 – 5V, 0 – 10V or 0 – 20V.
The Voltage Isolator 4 Infiniti
$595.00